Plant Science Complex
PLANT SCIENCES COMPLEX
—
The University of Pretoria
2012
PUBLISHED: Digest of South African Architecture 2012 Volume 17 endorsed by SAIA, 2013
FEATURED: Green Building Conference exhibition 2012
PUBLISHED: Contemporary Capital by P Matthews, 2010
—
New plant sciences complex, including herbarium, under graduate laboratories, post graduate laboratories, offices, conference facilities, greenhouses, phytotron rooms and student cubicles with computer laboratories.
—
The new Plant Sciences Complex, commissioned by the University of Pretoria for the Faculty of Natural & Agricultural Science, facilitates a herbarium, laboratories, chemical stores, auditorium, offices and basement parking. Plants for experimental use are cultivated under a glass roof on the top level of the building.
—
The brief called for a single Plant Sciences Complex for the existing Plant Sciences Department, previously accommodated in seven buildings around the campus. The botanical garden left behind was replaced with two vertical rock walls, constructed of a steel structure and mesh baskets containing rocks and planters for a selection of indigenous plants found on rock cliff faces meant to become continuous living research projects for students of the department.
—
Two separate buildings were placed on the east-west axis for maximum north orientation, linked by bridges and vertical circulation in a multi-volume foyer. The multi storey building was placed as far north as possible on the site, to prevent shadows on the neighbouring building to the south. The resultant shaded courtyard between the buildings provides seating for students and planters with natural ventilation of the basement. The choice of red brick paving used as cladding in a decorative panel on the south east corner acknowledges and commemorates the heritage value of red Kirkness bricks used on and around the campus. Various passive design and energy efficient principles were integrated into the building design to assist with natural ventilation, solar control, reduction of heat gain and electrical consumption. Orientation of and accommodation in the building were consciously considered to optimise passive climate control and reduction of heat gain by application of screens, reflectors and thermal mass. Thermal mass are created by planted rock walls, and walls cladded with stone and clay pavers. South facing laboratories utilises indirect light and minimizes heat gain through windows assisting with air conditioning and temperature control requirements.
—
The basement is naturally ventilated through openings in the ground floor slab and louvers around the plinth of the building. Planting on the various plinths create a milder micro-climate along the perimeter. Movement sensors and energy saving lamps reduce energy consumption. All hand wash basins in the ablutions use cold water only, reducing electrical consumption. Air conditioning generally contributes 40% of the annual energy consumption of a building and by storing solar heated hot water for pre heating of cold air in winter reduces the energy load and cost on the air conditioning system. Heat recovery wheels recover energy of exhaust air for pre-heating or pre-cooling of outside air, in winter and summer respectively for a 20% saving of energy used in a conventional HVAC system. Refrigerants used in cold rooms are ozone friendly. Passive air movement through the high multi-volume foyer by placement of roof extractors alleviates the necessity for mechanical ventilation as the passive airflow allows for sufficient air changes.
—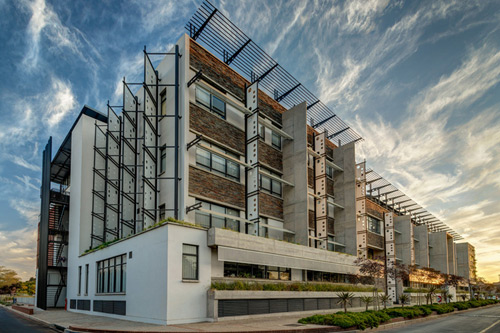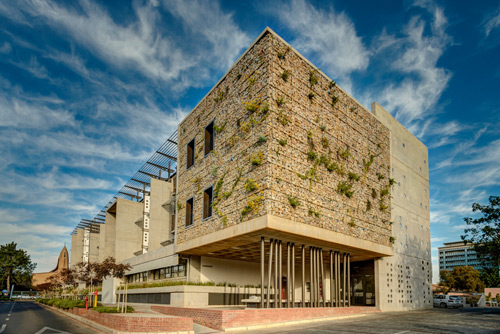 North-west view of planted rock wall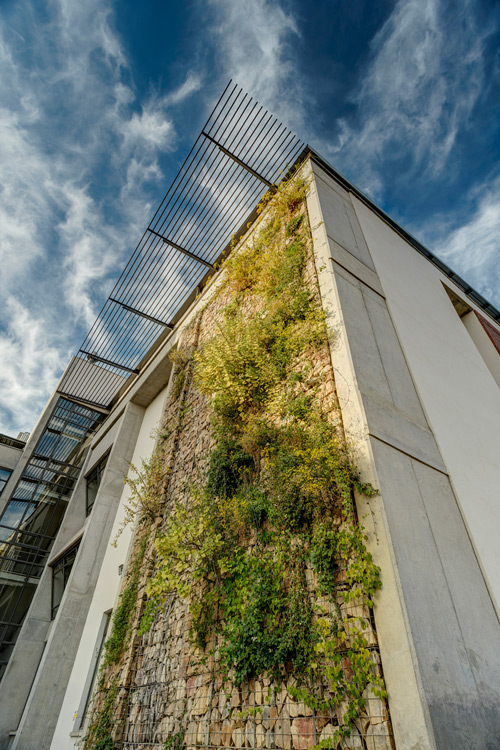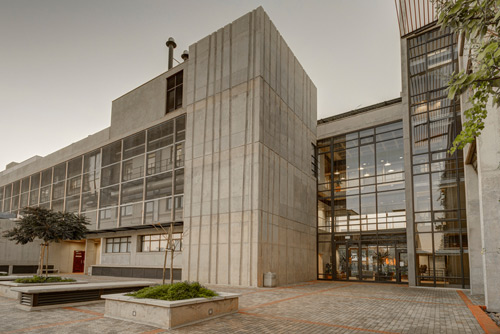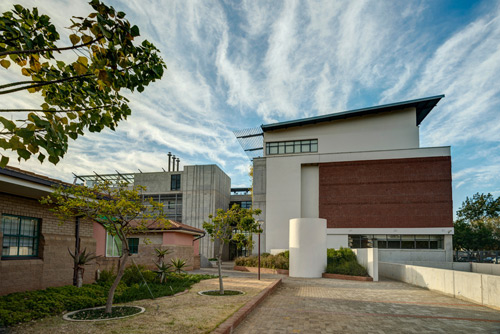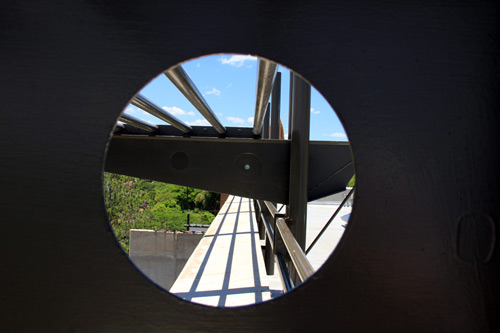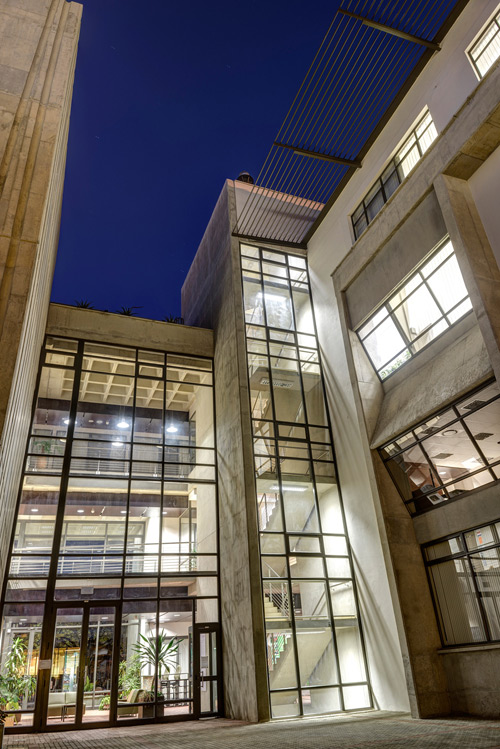 Entrance to central foyer